Drink –  Alcoholic Winner 2020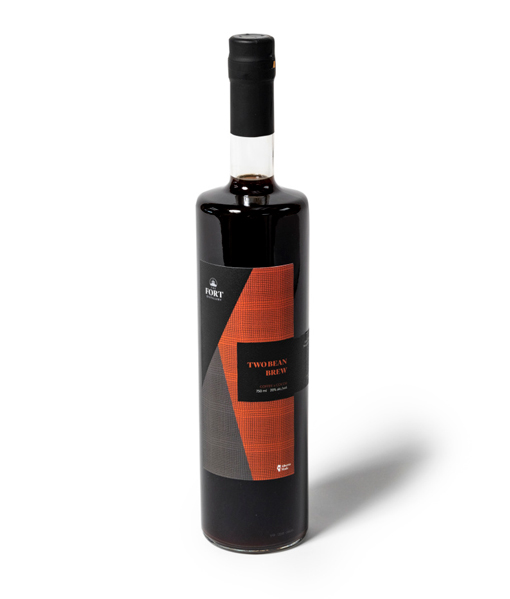 Two Bean Brew
Made in Fort Saskatchewan
$30 to $32
When it comes to craft spirits, there are plenty of unique products on the market, but figuring out what to actually do with these products can be tricky.
"If you make a really unique liqueur with some random berry, it might taste delicious, but if no one knows how to use it, they're probably not going to buy it," says Nathan Flim, who owns The Fort Distillery in Fort Saskatchewan with his wife Kayla.
Their desire to make a unique product that is still familiar and approachable for consumers is partly what drove the team at The Fort Distillery to create Two Bean Brew coffee liqueur.
"People know what a coffee liqueur is," says Flim. "There are a couple of other coffee liqueurs out there and they all sort of taste the same: syrup with a bit of coffee in it. We wanted to make something a little different."
Two Bean Brew contains no syrups or artificial flavours. Instead, Fort's head distiller, Julia Le, uses raw ingredients and infuses them into a house-made alcohol. Fort Distillery sources the coffee from Fort Saskatchewan café and roaster Cafe Bench, and chocolate made by Delicacies Valley in Calgary for the liqueur. Le also uses demerara sugar instead of white sugar for a more mellow sweetness and rounds out the liqueur with a hint of vanilla.
When it's served over ice, Two Bean Brew has a clean coffee flavour reminiscent of an iced coffee. It also mixes beautifully in cocktails and is amazing poured over vanilla ice cream.
"Everybody who tries it loves it," says Flim.
Photograph: Jared Sych   |   Writer: Sara Samson
DRINK – ALCOHOLIC WINNER AND RUNNERS-UP 2020
Made in Alberta Awards
The Made in Alberta Awards celebrate great Alberta products, businesses and ingenuity. By highlighting Alberta-made products through a variety of channels, including digital, in print and in person, the Made in Alberta Awards program supports and promotes local businesses and encourages people to shop local.
Proudly made in Alberta.