Drink – Non-alcoholic Winner 2020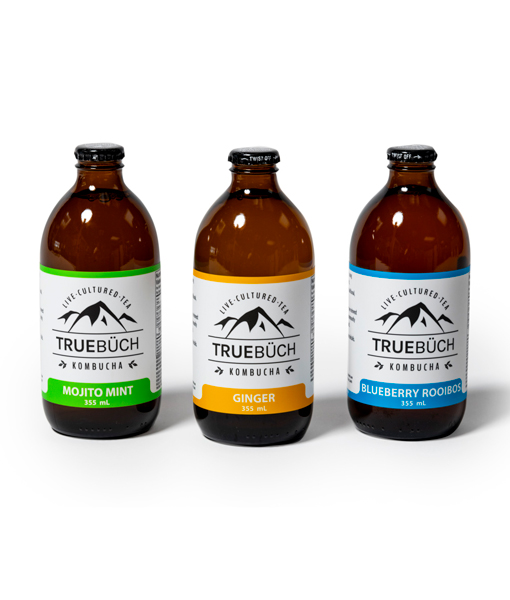 Kombucha
Made in Calgary
Starting at $5 for a 355 ml bottle
The idea for True Büch Kombucha started when founders Louisa and Conrad Ferrel took an extended trip to China. Conrad lives with a variety of food intolerances and allergies and found relief from his symptoms with kombucha, a fermented tea packed with probiotics that has been popular in China for centuries.
When the couple returned home, they couldn't find a local company making kombucha, so they began making their own.
As kombucha became a mainstream drink in North America, demand for their product grew and in just five and a half years True Büch went from a single farmers' market stall to being carried by about 550 retailers across Canada. In recent years, the company has added several employees, and two partners, J.R. Brooks and Shane Jackson, have joined to help handle the business. During peak production months, True Büch now makes between 15,000 and 20,000 bottles a week.
True Büch uses a blend of black and green tea, adds cane sugar and then ferments its kombucha with the use of a SCOBY (symbiotic culture of bacteria and yeast) and finally adds natural ingredients to create a variety of flavours.
Giving back financially is an important part of True Büch's business model and the company partners with eight local organizations including Mealshare, Camp fYrefly and The Alice Sanctuary.
"As we grow, we will have more partners and continue to give back a good chunk of our bottom line into the communities that have helped us grow. That's what we are built on," says Brooks.
Photograph: Jared Sych   |   Writer: Sara Samson
DRINK – NON-ALCOHOLIC WINNER AND RUNNERS-UP 2020
Made in Alberta Awards
The Made in Alberta Awards celebrate great Alberta products, businesses and ingenuity. By highlighting Alberta-made products through a variety of channels, including digital, in print and in person, the Made in Alberta Awards program supports and promotes local businesses and encourages people to shop local.
Proudly made in Alberta.