Fashion and accessories – Winner 2020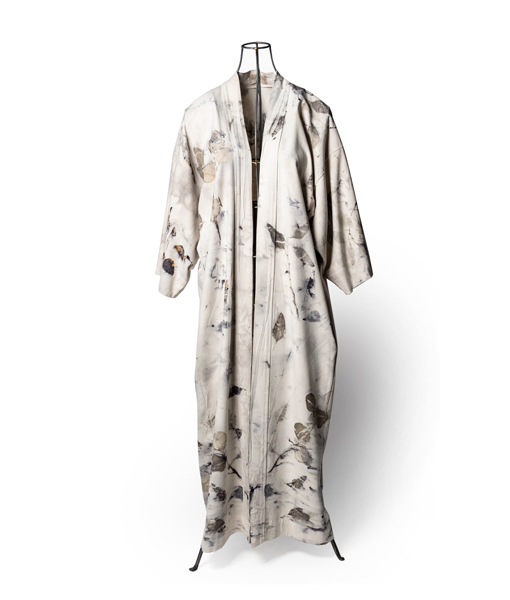 Irene Rasetti
Made in Calgary
$80 to $500
Irene Rasetti got her start in fashion during an eight-year stay in Milan, Italy, where she attended the fashion design school L'istituto Marangoni before working at Versace and Gianfranco Ferré as a designer. After returning to Canada, she took a natural dyeing workshop at the Alberta College of Art + Design (now AUArts) that set her on her current course.
"I loved how every piece would come out differently and that there was no real structure to it. It was very organic," she says. "There was something about the connection between nature and creating with nature that really felt nice to me. I started getting into using flowers and weeds and pigments and incorporating those things into creating colour on cloth that kind of led into making garments again. There was something that translated there, like that there was beauty in decay and relinquishing control over the result of something being perfect."
Rasetti launched her eponymous line of naturally dyed garments, which today includes robes, slip- and wrap-dresses, scarves and tops all made of natural-fibre fabrics, in 2015. After her production assistant does the pattern drafting and sewing, Rasetti tackles the one- to four-week process of preparing and dyeing the fabric in her Calgary home studio. She generally uses an eco-printing or bundle-dyeing technique, incorporating flowers and plant matter largely sourced from her own garden and Calgary florists to bring dreamy shades of pink, orange, purple, grey, brown and more to the garments, as well as leaf and plant prints.
The final result is always one-of-a-kind, producing a piece that is as much art as it is fashion. 
Photograph: Jared Sych   |   Writer: Alana Willerton
FASHION AND ACCESSORIES WINNERS AND RUNNERS-UP 2020
Made in Alberta Awards
The Made in Alberta Awards celebrate great Alberta products, businesses and ingenuity. By highlighting Alberta-made products through a variety of channels, including digital, in print and in person, the Made in Alberta Awards program supports and promotes local businesses and encourages people to shop local.
Proudly made in Alberta.