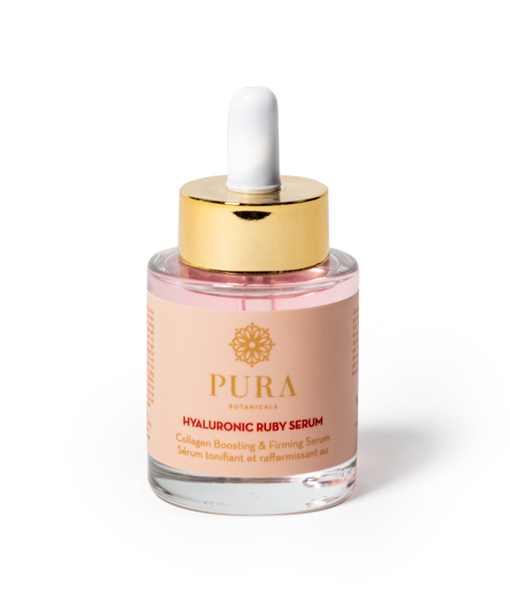 Hyaluronic Ruby Serum
Made in Edmonton
$144 for 33 ml bottle
Pura Botanicals Hyaluronic Ruby Serum has a hidden treasure inside. It's not the lightweight hyaluronic acid that provides a long-lasting moisture lock — tailormade for Alberta's dry climate. Nor is it the rare, naturally sourced gromwell root, which repairs skin and offers the serum its signature pink lemonade hue. It's not even the combination of multifunctional natural botanicals, including restorative bilberry and soothing cucumber nor the addition of antioxidant-rich vitamin C — although all of these ingredients are "gems" in their own right and magic when combined. The treasure in the serum is quite literally a jewel — a sustainably sourced ruby placed inside each handblown Italian glass bottle.
"We felt it was really important to immerse the ruby in the formula," says Pura Botanicals founder and director Lane Edwards. "The ruby adds an energetic mineral infusion that is protective and increases circulation.
The serum, handcrafted in Pura's clean beauty lab in downtown Edmonton, which opened in 2015, was inspired by The Wizard of Oz. "It's my favourite movie," Edwards says. "Dorothy uses her ruby slippers to liberate the oppressed people of Oz, and our whole brand is about self-empowerment. Now, more than ever, people are taking the time to look after themselves. We're skincare, but we're spirit care, too."
In line with Pura's focus on sustainability, customers can repurpose their rubies into jewellery or refill their empty serum bottles at the beauty lab and keep their rubies in place.
"It's not just a throwaway product," Edwards says. "It really does keep on giving."
Photograph: Jared Sych   |   Writer: Meredith Bailey
2020 BEAUTY WINNER AND RUNNERS-UP
Made in Alberta Awards
The Made in Alberta Awards celebrate great Alberta products, businesses and ingenuity. By highlighting Alberta-made products through a variety of channels, including digital, in print and in person, the Made in Alberta Awards program supports and promotes local businesses and encourages people to shop local.
Proudly made in Alberta.