Furnishings and home decor – Winner 2020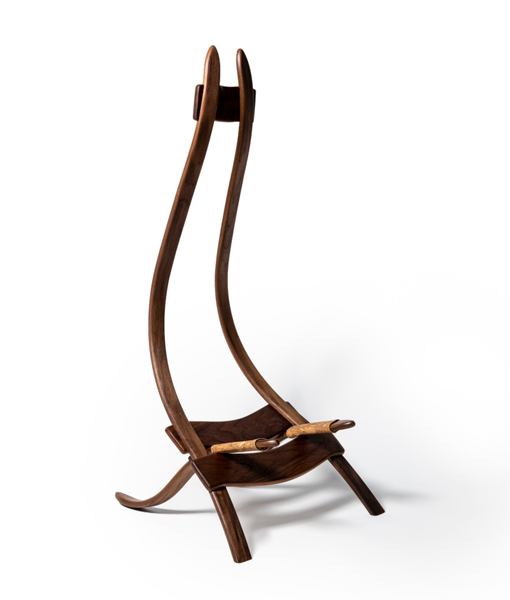 Guitar Stands
Made in Calgary
$849
The best functional objects are as beautiful as they are useful. That's the guiding principle behind Natural Collection, a handcrafted instrument stand company based in Calgary.
Operated out of Caleb Blake's garage, Natural Collection began as a hobby but has grown into a business. The company produces performing stools, wall hangers and floor stands for guitars and ukuleles.
The guitar stands are made from raw walnut or maple — Blake's favourite woods — that he cuts, fastens, sands, glues and finishes with oil before he adds a soft, renewable type of cork for protective padding. All told, it takes about 12 hours of labour, or 52 repeats of Lynyrd Skynyrd's "Free Bird," to make each stand.
Blake, a guitar player, says the durability and design of Natural Collection's work sets it apart. Typically mass-produced as a near-afterthought, the average guitar stand is a victim of planned obsolescence and made with no regard for aesthetic pleasure. Natural Collection's stands are meant to last a lifetime and Blake's creations bring out the natural beauty of the wood. The curvature of the stands and the luminous sheen covering the rich grain possess a sensual quality.
"I've had a couple people say 'wow, I never thought a guitar stand could be so sexy.' That right there hits the nail on the head for me," says Blake. "I love musical instruments and I think they're great pieces of art to have around the house. I wanted to make a stand that was equally beautiful — if not more beautiful." —C.G.
Photograph: Jared Sych   |   Writer: Colin Gallant
FURNISHINGS & HOME DECOR WINNER AND RUNNERS-UP 2020
Made in Alberta Awards
The Made in Alberta Awards celebrate great Alberta products, businesses and ingenuity. By highlighting Alberta-made products through a variety of channels, including digital, in print and in person, the Made in Alberta Awards program supports and promotes local businesses and encourages people to shop local.
Proudly made in Alberta.