Food – Sweet – Winner 2020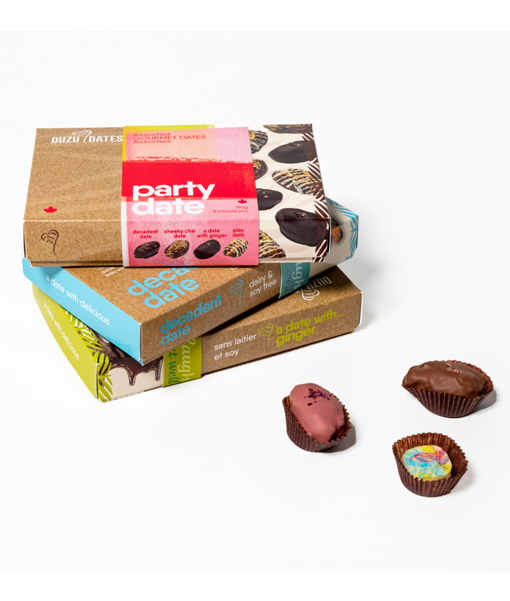 Duzu Dates
Made in Calgary
$4 to $19
Duzu Dates' story starts with founder and CEO Lorena Prakash's 2012 trip to Dubai, where she first tried gourmet filled dates in a boutique.
Prakash became obsessed with the elegantly presented treat. As the supply she'd brought home to Calgary from her trip ran out, she searched for them locally with no results. So, in 2015 she started Duzu Dates — naming the company after an ancient Mesopotamian god of food and vegetation.
Five years later, Prakash's passion for dates lives on. Now Duzu's small team works through an intense process to ensure each date has the potential to win over non-believers.
The Duzu team pits each medjool date by hand then fills it with almonds (Decadent Date; Dream Date), candied lemon (Ruby's Date with Passion) or mixtures including pistachios, lavender, honey and and hemp seeds among other delectable ingredients. Most varieties of Duzu Dates are enrobed in chocolate from Calgary's Cococo, then decorated with pink Himalayan salts or edible rose petals and finally packaged by hand. The result is a nutritious treat that still satisfies a sweet tooth.
As Duzu Dates continues to grow a following, Prakash says challenging preconceived notions remains a highlight of the job.
"That's my favourite part — seeing people's faces light up and almost having them experience dates for the first time, even if they've had them before," says Prakash. "Then I feel like they've experienced it like I did when I was in Dubai."
Photograph: Jared Sych   |   Writer: Nathan Kunz
FOOD – SWEET WINNER AND RUNNERS-UP 2020
Made in Alberta Awards
The Made in Alberta Awards celebrate great Alberta products, businesses and ingenuity. By highlighting Alberta-made products through a variety of channels, including digital, in print and in person, the Made in Alberta Awards program supports and promotes local businesses and encourages people to shop local.
Proudly made in Alberta.