Food – savoury – Winner 2020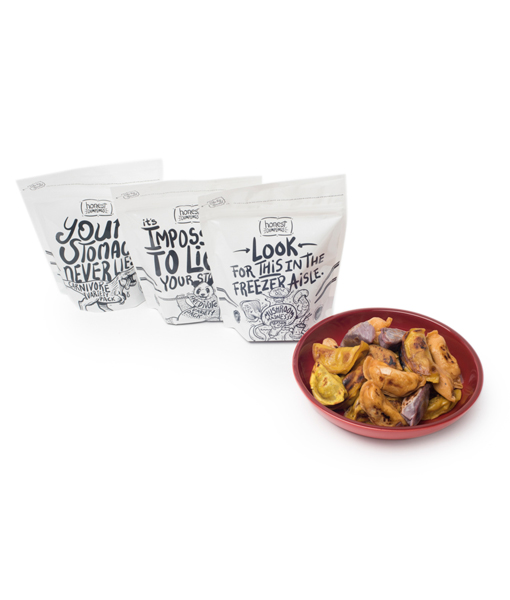 Dumplings
Made in Edmonton
$15 per bag
Ray Ma moved from Shanghai to Edmonton in 2007 to pursue a law career, but in 2014 pivoted to the food business and co-founded Honest Dumplings with her tech-exec husband Chris Lerohl. Six years and some major business moves later, the pair has sold more than a million craveable dumplings.
Lerohl says he and Ma knew they struck gold early. "I remember the first customer and the first time we ever sold something at a farmers' market — we were blown away that we sold out of everything."
The company now has a 7,000-square-foot manufacturing facility, a team of 18 employees and major distribution in both Alberta and British Columbia. It has also merged with South Island Pie Co. and is a founding member of gourmet local food distributor Uproot Food Collective.
Honest Dumplings pack a lot into these exceptional little parcels. The minimalist packaging and silky-soft wrappers naturally coloured by veggies and spices are what most people notice first, but it's when you bite into the symphony of flavour and texture inside that the dumplings truly sing. Honest Dumplings offers classic options like the traditional pork with edamame and shrimp, and more fusion-y varieties like ginger beef and butter chicken. There's even a suite of vegan options that rival their meaty counterparts in complexity of flavour. If you're making your first Honest Dumplings purchase, try a "carnivore" or "herbivore" variety pack. Before long you'll be rooting for the company to sell a million units more.
Photograph: Jared Sych   |   Writer: Colin Gallant
FOOD – SAVOURY WINNER AND RUNNERS-UP 2020
Made in Alberta Awards
The Made in Alberta Awards celebrate great Alberta products, businesses and ingenuity. By highlighting Alberta-made products through a variety of channels, including digital, in print and in person, the Made in Alberta Awards program supports and promotes local businesses and encourages people to shop local.
Proudly made in Alberta.