Fashion and accessories – Winner 2020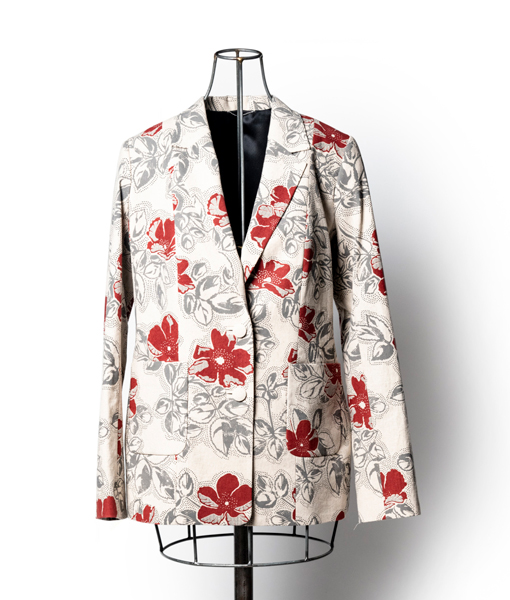 Bluff Pocket Blazer in Floralz Series: Prairie Roze
Made in Calgary
Jacket starts at $985; fabric $290 per metre
With neighbouring design studios in Calgary's cSpace King Edward building, fashion designer Anneke Forbes and surface designer Natalie Gerber have long admired each other's work. So collaboration just made sense for the pair.
"We respect each other as artists and value the same things in our business: a luxurious quality but also a bit of a sustainable ethos," says Forbes. "The concept of small, slow business that is intentional and authentic, I think we both live those. And we just connected as artists and as friends."
Elegant yet modern, the Bluff Pocket Blazer in Floralz Series: Prairie Roze is a high-quality, meticulously crafted garment. Gerber's beautiful rose print fabric — a nod to Alberta's provincial flower — was inspired by connection and place. "The way that I could explore place was through the things that I can see and the things that are around me. Those things that are natural to our environment and that have been here longer than us," Gerber says. Gerber starts her prints by hand drawing the image that she then turns into a pattern and layers digitally before silkscreening it by hand using a water-based print system.
Forbes, who is known for her structured winter coats and leather jackets, used the finished fabric to create a made-to-measure silk-lined blazer for her line. Forbes' attention to detail is particularly on display in eye-catching details like the blazer's bound buttonholes, covered buttons and inside chest pocket. The blazer style is also offered in at least six additional colours.
Together, the pair have created a striking wardrobe staple that showcases the strength of Alberta's design talent.
Photograph: Jared Sych   |   Writer: Alana Willerton
FASHION AND ACCESSORIES WINNERS AND RUNNERS-UP 2020
Made in Alberta Awards
The Made in Alberta Awards celebrate great Alberta products, businesses and ingenuity. By highlighting Alberta-made products through a variety of channels, including digital, in print and in person, the Made in Alberta Awards program supports and promotes local businesses and encourages people to shop local.
Proudly made in Alberta.