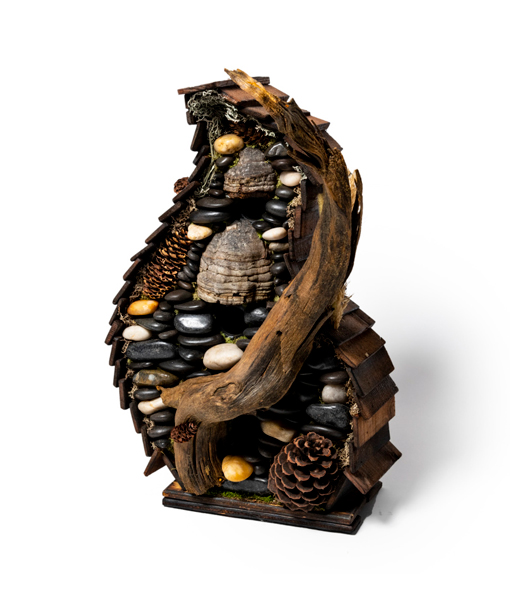 Birdhouses
Made in Calgary
$75 to $225
Ralph Giebelhaus took up woodworking in 2017 to fill some free time while he was undergoing cancer treatments. Shortly after investing in two saws and a compressor, he built his first birdhouse — a simple structure he decorated with stones he collected from his front yard.
"It just came out of the blue, it really did," says Giebelhaus. "I've had people ask me 'What gave you the incentive?' And I say, 'I'm really not sure. I was just so bored at home watching TV.'"
The new hobby would have remained just that if his brother hadn't convinced him to bring the birdhouses to a market in Marda Loop. After reluctantly agreeing, Giebelhaus says he was surprised to sell out of his five birdhouses within an afternoon.
Since then, his process has evolved. Giebelhaus — who is now cancer free — takes hikes throughout southern Alberta, gathering stones, calcified mushrooms, driftwood, cattails and other natural components to give his houses their trademark natural aesthetic. Giebelhaus scorches the plywood base and cedar roof of each birdhouse before decorating them with his foraged finds. He says he doesn't tend to preplan the look of the exterior design, so each birdhouse turns out entirely one-of-a-kind.
The natural look has proven to be popular. Giebelhaus says customers often take their time finding just the right one for them. But in terms of the ultimate client for any birdhouse, Giebelhaus says feedback informs him that birds quickly gravitate toward the real estate, often moving in just a few days after the houses are put on display.
Photograph: Jared Sych   |   Writer: Nathan Kunz
2020 CRAFT WINNER AND RUNNERS-UP
Made in Alberta Awards
The Made in Alberta Awards celebrate great Alberta products, businesses and ingenuity. By highlighting Alberta-made products through a variety of channels, including digital, in print and in person, the Made in Alberta Awards program supports and promotes local businesses and encourages people to shop local.
Proudly made in Alberta.