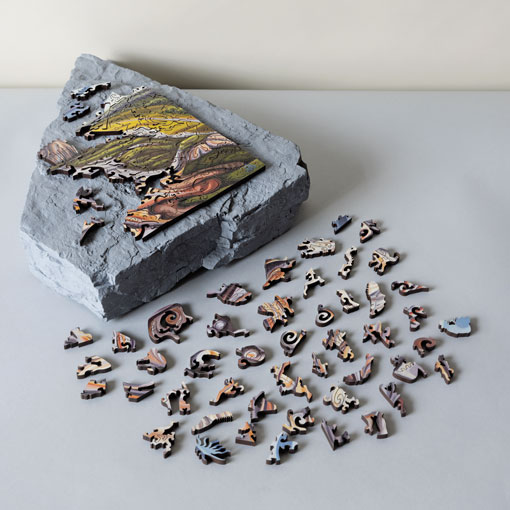 Photograph: Jared Sych | Writer: Jazmine Canfield
By StumpCraft | Made in Calgary
Jasen Robillard, founder of StumpCraft Puzzles, loves wooden puzzles. When he couldn't find anywhere to buy them in Canada, he decided to create his own.
Robillard also thought up a more interesting way of creating the puzzles. "The traditional puzzles are typically grid cut, meaning that they're typically square pieces with a hole or knot, and what I like to do is just kind of throw all that out the window and make pieces that would traditionally not be viewed as puzzle pieces," he says.
"I'm trying to expand people's minds in terms of what can be made into a puzzle."
StumpCraft products showcase Canadian fine art. Robillard works in collaboration with artists across Canada, as well as artists' estates, museums and art galleries that focus on Canadian fine art to select artwork to feature on the puzzles. He believes that the puzzles create a fun and interactive appreciation of Canadian art.
StumpCraft puzzles are not like any other. The pieces are whimsically shaped and often include things that relate in some way to the image on the puzzle — for example a puzzle with an image of the Alberta badlands features pieces shaped like dinosaurs and archeologists. Part of the fun is identifying the various shapes.
Each piece is made with a laser cutter and each cutline is intentionally designed to enhance the puzzling experience. StumpCraft uses premium wood and top-of-the-line printing technology so interacting with the pieces, exploring the different shapes and feeling the pieces themselves adds an extra layer to the joy of putting these puzzles together.
$59 to $239
stumpcraft.com

Games & Leisure Gift Guides
Read our guide to the best local gifts.
2021 Games & Leisure Runners-Up
You may also like…
Escape Mail

By Mobile Escape | Made in Calgary

Runner-Up | Games & Leisure

Custom-Made Titanium Bicycles

By RollingDale Cycles Inc. | Made in Edmonton

Runner-Up | Games & Leisure

Stealth Gaming Chair

By LF Gaming | Made in Calgary

Runner-Up | Games & Leisure