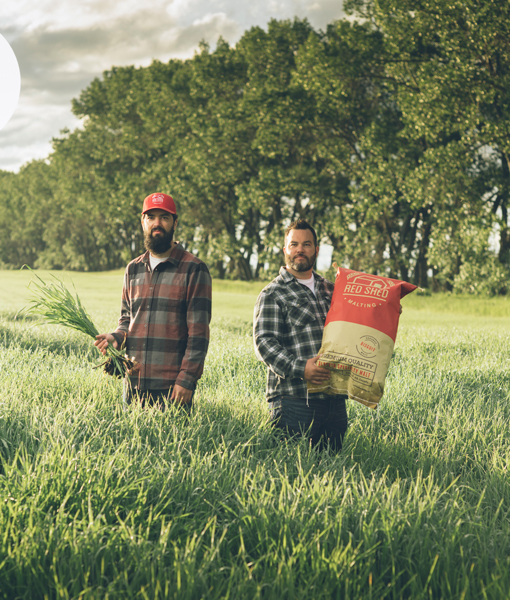 Photography: Jared Sych | Writer: Travis Klemp
By Red Shed Malting | Made in Red Deer County
In December, 2013, the Alberta government changed a number of regulations for breweries and paved the way for the vast and booming craft beer community to flourish. Anticipating the growth of local craft beer and home brewing, brothers Joe and Matt Hamill recognized that they could use their family farm in a new way to create specialty malts to serve this new local market.
In beer making, malt provides the sugars that are needed to ferment into alcohol. Using specialty malts allows both craft brewers and home brewers to create flavour, colour and aroma profiles.
The Red Shed story however, starts long before Joe's passion for brewing and the current craft beer trend. In 1929, Joe and Matt's great-grandparents, Bernard and Madge, immigrated to Penhold from Ireland. The farm has been in operation across four generations of Hamills, for 90 harvests and more than 745 acres of barley.
Fast forward to 2020 and the Hamills praise the Alberta soil and growing conditions that have allowed them to harvest some of the most desired barley varieties in the world.
While the process of malting has remained much the same for centuries, the Hamills use a unique malt plant of their own design that produces up to four tonnes of malt each week. Steeping raises the moisture in the barley from roughly 13.5 per cent to about 44 per cent. Once the right moisture level is reached the barley undergoes a germination process and the kernels start to grow at a controlled temperature and moisture level for four days. Finally, the grain goes through kilning for approximately 24 hours. This is where it finds its identity in both colour and flavour. As the heat in the kiln rises and the water evaporates from the barley, the maltsters choose the desired profile and then the malt is quickly cooled.
Red Shed malts are available in small batches as little as one-pound bags and up to 50-lbs bags, and are used by home brewers as well as dozens of Alberta companies including Blindman Brewing, Annex Ale Project, Olds College Brewery, Alley Kat Brewing Company, Bridgeland Distillery, and this year's Alberta Small Brewers Association Brewery of the Year winner, Cabin Brewing Company.
Matt says that community building and kinship have been a focus since the beginning and remain guiding principles for how the Hamill farm and Red Shed Malts operate today.
"We wanted to be able to give back to our family but also be involved with the Alberta companies like Alley Kat and Blindman and Northern Girls Hops," he says. "They welcomed us into the community, and we have been lucky enough to contribute to it in a positive way."
Prices vary
redshedmalting.ca

Read our guide to the best local gifts.
You may also like…
Luxury Baby Playmat

By Coco Bean | Made in Cochrane

Runner-Up | Unique

UWinemaker

By Uwinemaker | Made in Calgary

Runner-Up | Unique

Dirty Work Dishcloths

By Boldfaced | Made in Calgary

Runner-Up | Unique

Hands-Free Towel

By Oneberrie | Made in Pincher Creek

Runner-Up | Unique