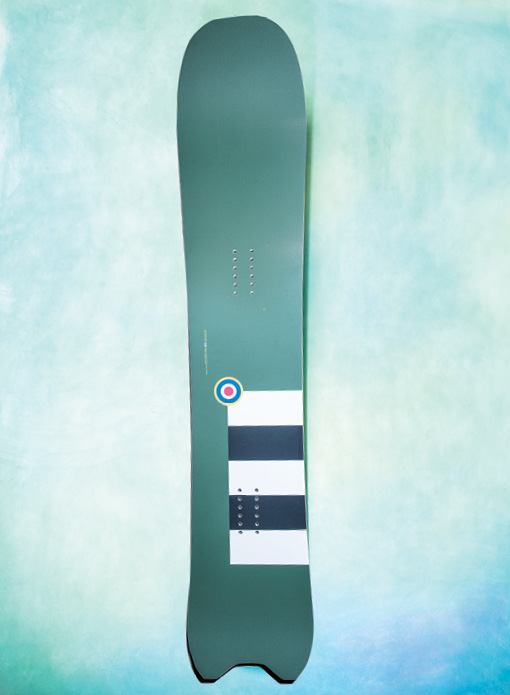 Photograph: Jared Sych | Writer: Alana Willerton
By Olive Skateboards + Snowboards | Made in Spruce Grove
As a snowboarder in the early 1990s, Randy Jespersen competed at the international level in events across North America, riding for sponsors including Joyride and Sims before injuries ended that career path for him. But instead of leaving it behind entirely, he decided to take his first-hand experience and design the kind of boards he wanted to ride. "I was giving ideas to the companies that I was riding for, making their product better," Jespersen says. "Seeing the industry relying on some of my ideas to push itself forward, I was just like, 'well, why don't we just do our own thing?'"
Jespersen and a friend, Matt Davis, teamed up to launch Olive Snowboards in 1993. While they originally outsourced their manufacturing, they soon moved production to Alberta where it has remained ever since. A long-time skateboarder as well, Jespersen added skateboard decks to Olive's product catalogue in 1998.
Today, Jespersen runs Olive Skateboards + Snowboards with Geoff Kramer, who joined the business in 2009 (Davis and Jespersen had long since gone their own ways). The pair work out of a 3,700-square-foot manufacturing facility located on the Jespersen family dairy farm, Spruce Park Dairy, in Spruce Grove, west of Edmonton. While a former calf barn may not seem like an obvious place to run a snowboard and skateboard company, Jespersen has spent the last 25 years collecting and rebuilding automated equipment to make their boards from start to finish right here in Alberta.
Olive snowboards come in several different models: all-mountain snowboards, powder surfers, backcountry split-boards, snow skates, youth boards and custom boards. The process of crafting a snowboard starts with it being conceptualized, drafted and output to the various formats required for components and templates. This primary phase is also where they decide on graphics for both the base and the top sheet. Some Olive boards feature artwork by Kramer, or other Canadian artists. Past graphics have depicted everything from a cat-and-unicorn image to a bull's-eye target.
The graphics are sublimated onto the base material and top sheet. The base is then cut to shape and edges are attached. Olive produces its snowboard cores in-house using poplar wood from Canadian mills. "It's a lightweight material that has very long grain strength and that is clean," Jespersen says. They then add layers of fibreglass, Kevlar and carbon-fibre and press everything together with epoxy and heat in a snowboard form. Once cooled, the snowboard is trimmed, finished, stone-ground, waxed and then packaged. It takes a minimum of three hours to make a standard board, start-to-finish, Kramer says, though custom boards and other models take longer.
Jespersen and Kramer say people are usually surprised to learn Alberta has a local snowboard- and skateboard-manufacturing company — even if they're already familiar with the Olive brand. Olive boards have received rave reviews in snowboarding magazines internationally. The online publication Mountain Weekly News, based in Jackson Hole, Wyoming, named their "Numbchuck" splitboard (a backcountry touring snowboard that separates into skis for ascending and traversing through terrain) one of the top 10 on the market for 2018, commenting that "what sets Olive splitboards apart from every other splitboard on this list is the construction."
Kramer believes the company's small size and dedication to making the boards locally is part of what sets them apart. "We're small, we're fleet and we're not tied to anything," he says. "It's the two of us. If we want to produce something, we look at each other and say, 'well, are we going to do it or not?' So that has given us opportunity to be quicker and take on projects that a typical bigger company couldn't take."
In addition to sponsoring local up-and-coming snowboarders, the Olive team has also made snowboards for some notable names. Michelle Salt, a former Paralympic snowboarder based in Calgary, rode for Olive for three seasons. They also collaborated with former Olympic snowboarder Mark Fawcett on a signature series of powder surfers.
While other local snowboard companies have tried to make a go of it over the years, Olive is one of the few to persevere. The company is celebrating the 25th anniversary of the release of its first snowboard collection this fall with a special showcase planned on its digital and social-networking platforms of past boards, former riders and other important milestones. Olive will also offer reissues of graphics from former boards that can be put on new models and will formally launch the option for custom board graphics as a standard feature going forward.
While Jespersen is modest about hitting the quarter-century milestone ("I'm just stoked to still be doing it," he says), Olive's reputation for high-quality, handcrafted boards and skateboard decks year after year makes it no surprise that this exciting Alberta business has succeeded for so long.
$300 to $1,500
olivesnowboards.com, @oliveboards

Games & Leisure Gift Guides
Read our guide to the best local gifts.
2019 Games & Leisure Runners-Up
You may also like…
Teardrop Trailer

By Gnome Homes | Made in Sherwood Park

Runner-Up | Games & Leisure

Bike Binderz

By Bike Binderz | Made in Calgary

Runner-Up | Games & Leisure

The Treehugger

By Treeline Outdoors | Made in Turner Valley

Runner-Up | Games & Leisure