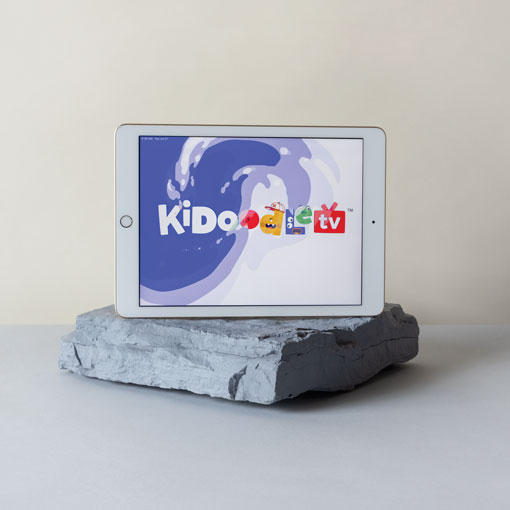 Photography: Jared Sych | Writer: Tsering Asha
By A Parent Media Co. Inc. | Made in Calgary
Kidoodle.TV is a local company that offers content streaming for kids and families. The Calgary-based tech startup features more than 25,000 episodes of entertaining and educational shows available in over 160 countries and territories worldwide. As of 2020, the company is also producing content through Kidoodle.TV Originals.
Co-founder Neil Gruninger came up with the idea for Kidoodle.TV after noticing how easy it was for his nieces and nephews, and specifically co-founder Michael Lowe's son, to access inappropriate shows and advertisements when algorithms didn't filter for age-appropriate content.
What sets Kidoodle.TV apart from other kid-friendly streaming options is its Safe Streaming guarantee — real humans screen all content before it goes live on the platform. That's right, A Parent Media Co. Inc. employs actual grandparents to watch every single episode, advertisement and commercial before it airs.
While a lot has changed in almost a decade since the company was founded, Gruninger says he believes having real people screen kid-friendly content has become even more valuable during the pandemic, as most kids' screen time has increased. "Parents, especially through COVID, have recognized … that open platforms [like YouTube] are a very dangerous place for their kids," says Gruninger.
This is particularly true for the growing client base of millennial parents — a generation of people raised by the good, bad and ugly of the Internet, who really want to protect their kids from the bad and ugly.
Up to $4.99 per month
kidoodle.tv

Read our guide to the best local gifts.
You may also like…
Bala-Calfa – The Bovine Balaclava

By Bala-Calfa | Made in Eckville

Runner-Up | Unique

Jem Pipes

By Jewelnotes Glassworks | Made in Calgary

Runner-Up | Unique

Premium Earthworm Castings

By Annelida Organics | Made in Stony Plain and Nisku

Runner-Up | Unique