The first round of judging will be based on the feedback of the judges of each category and will take into consideration the quality and craftsmanship of the manufacturing and the innovation and originality of the product. The judging panels will determine the category winners and runners-up. Each category will have one winner and three to five runners-up. Category winners will be advanced to the second round for the selection of the Overall Winner.
A second round of judging for the Overall Winner will be completed by the Overall Winner judges, one Overall Winner will be selected.
Category winners and runners-up as well as the Overall Winner, will be featured in print and online in Avenue magazine Calgary and Edmonton in September 2020. Length of write-ups and size of imagery is at the discretion of the editorial team.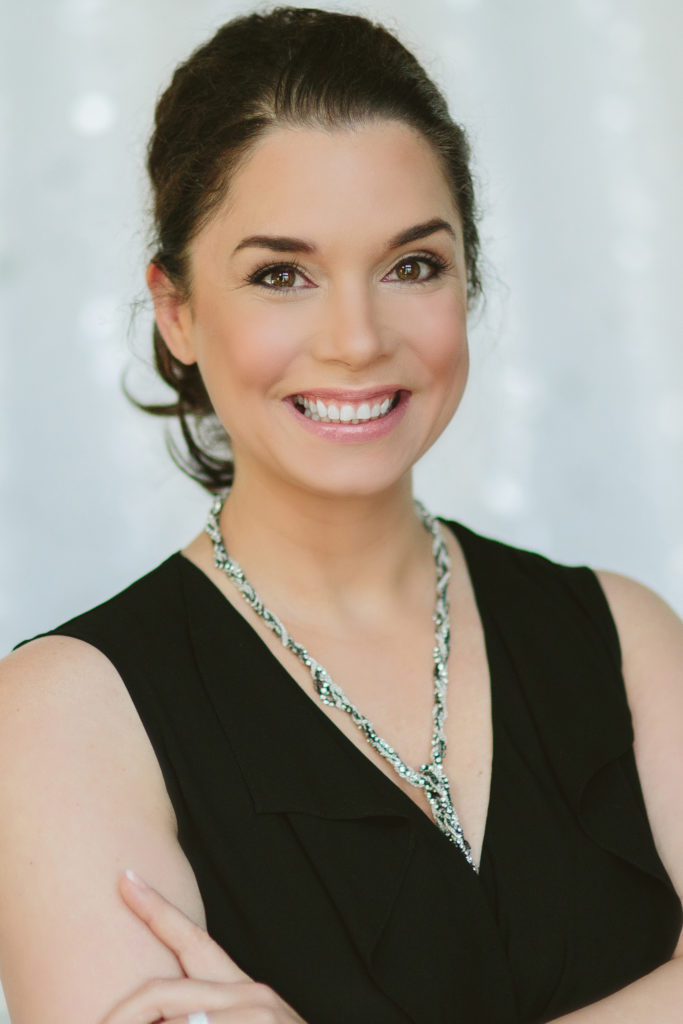 Marie Bertrand
Beauty Judge
As a skin scientist and entrepreneur, Marie Bertrand, founder of SkinScience, brings more than 20 years of experience in the skincare industry to her work. Prior to founding SkinScience,
Marie worked in management for L'Oreal Canada, developing skincare training programs for cosmeticians and dermatologists throughout Canada.
In 2018, Bertrand launched her own skincare line, Aliquote Skin. The suite of 18 products provides medispas with a bespoke product line and support system which is customizable, efficacious and scientifically proven.
She has successfully trained more than 250,000 people and has experience with over 100 global skincare lines.
Bertrand and her devoted team provide ethical and unbiased recommendations and develop integrated skincare regimes, adapted to individual patient needs. She relies on science, clinical studies and measurable results, which has earned her the trust and respect of thousands of clients.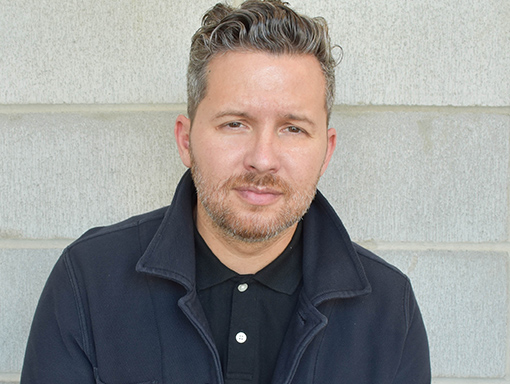 Rob Gaspar
Beauty Judge
Over the past 20 years, Rob Gaspar has consistently gained recognition as one of Alberta's top stylists.
After apprenticing under a master stylist mentor for 10 years, Rob opened Blunt Salon in 2009, Mast Hair in 2018 (which just opened its second location in Edmonton) and a co-op space for professionals in the beauty industry called Sundays Inc in 2019.
Rob is passionate about the beauty industry and supporting small and local business, and was blown away by the support received when Mast Hair won the Made in Alberta Awards beauty category last year.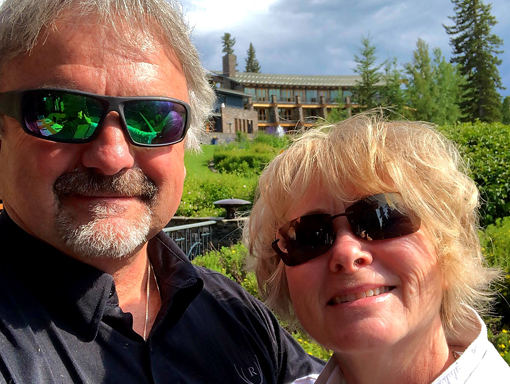 Hugh MacPherson and Deb Rowland
Craft Judge
Founded in 2016 by Hugh MacPherson and Deb Rowland, Rattlestick creates one-of-a-kind men's grooming tools and apothecary.
Rattlestick was the grateful recipient of the 2019 Made in Alberta Award in the craft category. Their winning shaving tools have been seen in such magazines as British GQ and Vanity Fair and can be found in boutiques across North America.
MacPherson is a master craftsman and has worked with wood and metal in one form or another for over three decades. As an outdoor educator for over 30 years he went on to participate in several grass roots NGO groups, as both a volunteer and a director.
Rowland is inspired by Southern Alberta's natural beauty and applies her artisan skills with that vision. Rowlands' passion for equine sports has provided her with the opportunity to sit on the Board of Directors for the Okotoks Agriculture Society as well as Canadian 6, where she managed several portfolios.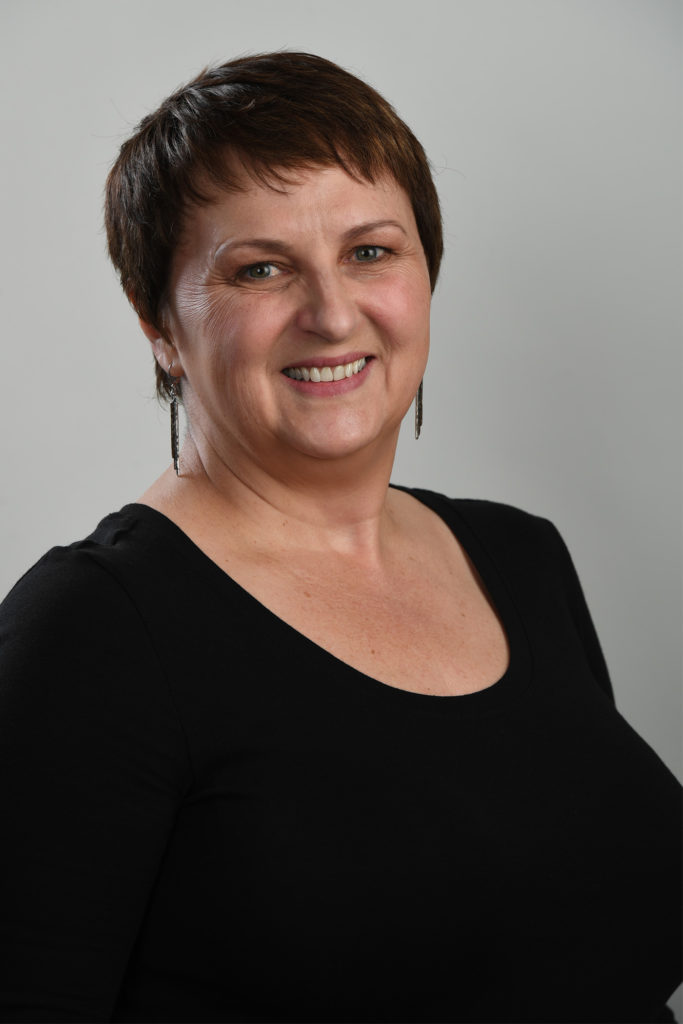 Jessie Radies
Craft Judge
Jessie Radies, Director, Strategic Programs and Initiatives for Edmonton Northlands, has built a reputation as an entrepreneurial, innovative and creative leader and a compelling advocate for local food and independent business.
She has over 30 years of restaurant experience and 10 years of community development experience.
She was recognized as a Women of Vision in 2008. Radies is also a BALLE Fellow, which has resulted in her actively collaborating with international thought leaders on Community Economic Development programs, processes and economic policy issues.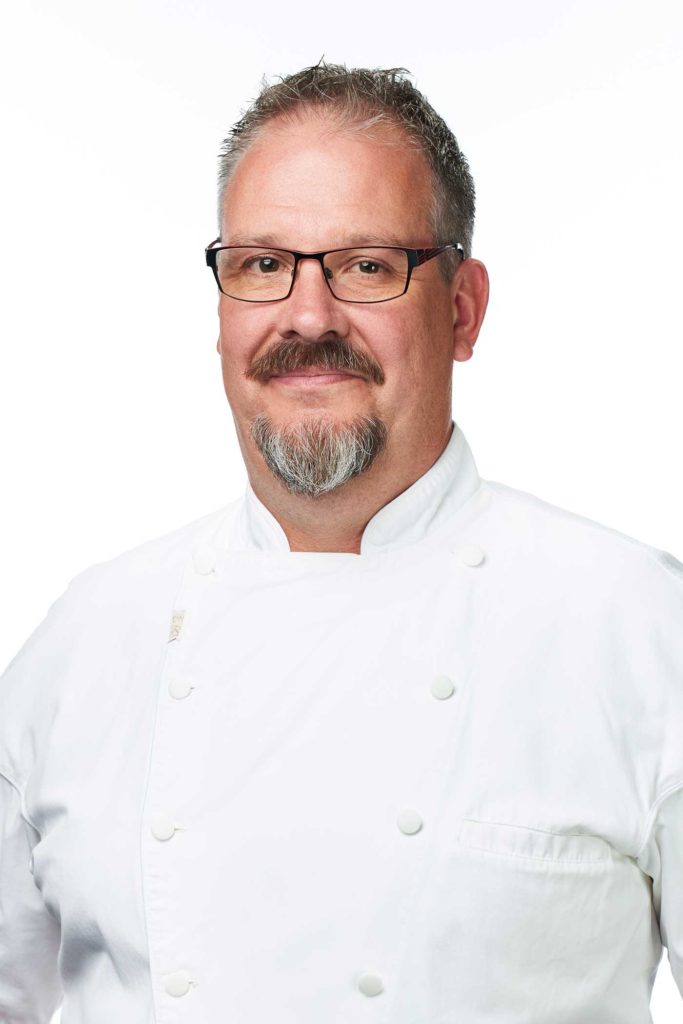 Michael Allemeier
Drink Judge
Prior to joining SAIT as a culinary instructor, Chef Michael Allemeier was executive chef at Bishops Restaurant in Vancouver and then at Teatro in Calgary.
He completed his Certified Master Chef designation in June 2017, becoming Canada's third chef to achieve the designation.
Allemeier hosted 20 episodes of Food Network's Cook Like a Chef and has been a guest on many cooking and food-related shows. Allemeier also co-authored Bishop's – The Cookbook and has contributed recipes to several cookbooks.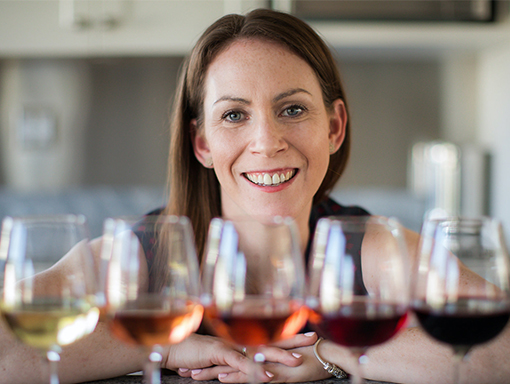 Nicole MacKay
Drink Judge
Nicole MacKay is a wine writer and consultant who holds her Level 3 Certification from the Wine & Spirit Educational Trust and is the Vice-President of the Wine Writers' Circle of Canada.
Her passion for wine was sparked the summer of 2004 while working in the tasting room of an Okanagan winery. That passion grew as did the desire to explore the stories behind the labels, which led to the creation of her own website, SocialSips.ca.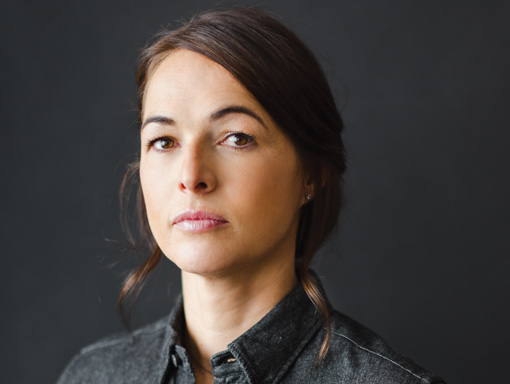 Cheryl Greisinger
Food Judge
Cheryl Greisinger is the owner and operator of Forage & Farm, an organic garlic farm and homestead school in the Foothills of the Rocky Mountains. 
Forage & Farm's black garlic — a garlic that has been warmed for several weeks to achieve a sweet balsamic flavour and increased antioxidants with a soft and smooth texture — was the food category winner for the 2019 Made in Alberta Awards.
Forage & Farm specializes in growing a variety of hardneck garlic and produces a variety of culinary products such as garlic scape pesto, specialty compound butters and black garlic. Cheryl is a permaculturalist and passionate about growing food in an ethical manner for the planet, learning and sharing skills of self-sufficiency, resilience and building community.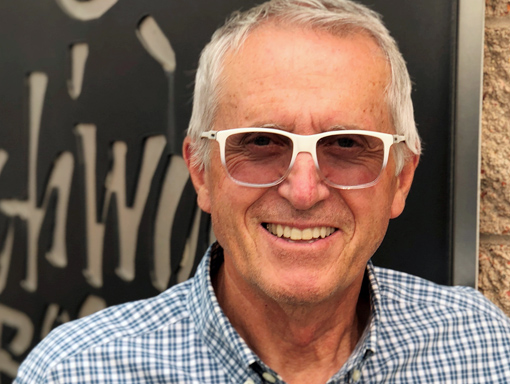 Tony Marshall
Food Judge
Tony Marshall has a varied and successful business background spanning more than five decades – most recently, as the co-founder, with his wife Penny, of Highwood Crossing Foods, an Alberta organic food company with national distribution.
 He is also the steward of Highwood Crossing Farm, his family's 124 year old heritage farm near High River, Alberta. He is a strong community supporter and volunteer that has served nationally on the board of directors for The Canadian Organic Growers Association and is a past member of the Canadian Expert Committee on Organic Agriculture. Tony and Penny were named "Canadian Food Heroes" by Slow Food Canada for their efforts in promoting good, clean and fair food in Canada.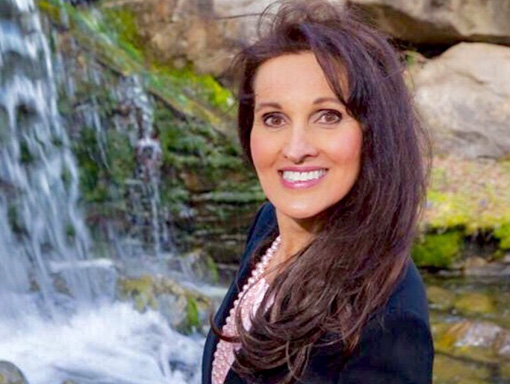 Kamla McGonigal
Food Judge
Kamla McGonigal is the founder, owner and president of Alberta Whisky Cake (AWC), a specialty cake company she started 10 years ago.
Each cake is liquor-infused, heat-sealed and elegantly packaged. AWC uses as many local ingredients and small businesses as possible, and actively promotes the work of local emerging artists.
Alberta Whisky Cake has been featured in many publications and their story was selected, produced and televised by Shaw TV Productions. And a highlight was that AWC was selected as a food runner-up winner in the inaugural 2019 Made In Alberta Awards.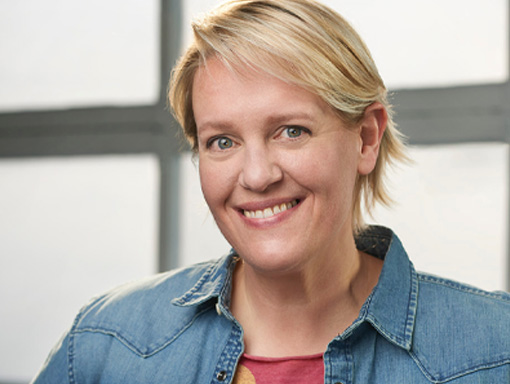 Julie Van Rosendaal
Food Judge
Julie Van Rosendaal is the author of 11 best-selling cookbooks.
She has been the food columnist on the Calgary Eyeopener on CBC Calgary for 14 years, and is the contributing food editor at the Globe and Mail. She writes about food for publications across the country, teaches cooking classes, regularly cooks on local and national TV and at live events, and hosts a food-focused podcast called Crispy Bits.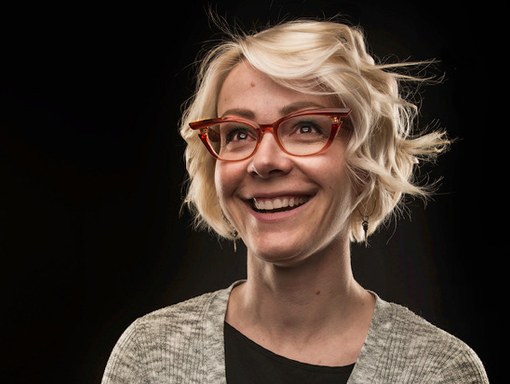 Michelle Atkinson
Furnishing and Home Decor Judge
Born, raised and currently residing in Calgary, Alberta, Canada, Michelle Atkinson is an internationally recognized graphic designer with over 30 awards throughout her 15+ year career.
A reputation for strategic thinking and practical design with a commitment to continued education, she is constantly adding to her skills which benefit her passion – art. A warm glass art practice influenced by the landscape of Western Canada is a growing enterprise where she creates award winning home decor as well as sculptural fine art.
Atkinson's Impression Series glass bowls were a furnishings and home decor category winner in the 2019 Made in Alberta Awards.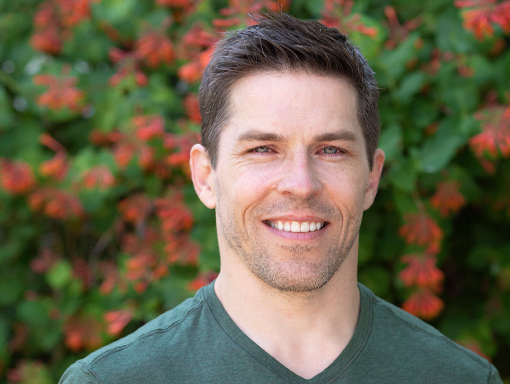 Dallas Gara
Furnishing and Home Decor Judge
Dallas Gara is a geophysicist in the day and a passionate woodworker on evenings and weekends.
He takes inspiration from woodworkers like Sam Maloof and Hal Taylor and does his best to build furniture that will last for decades using the most amazing wood he can find. He likes to build a lot of different pieces but his focus over the past five years has been sculpted chairs and rocking chairs. Gara loves to design new and interesting chairs that are both comfortable and beautiful.
Gara's Sam Maloof-inspired rocking chair was a furnishings and home decor category winner in the 2019 Made in Alberta Awards.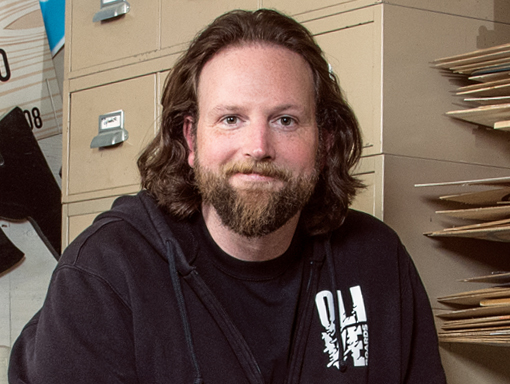 Geoff Kramer
Games and Leisure Judge
Coming from a background of illustration, fine-art and design, Geoff Kramer is one of Edmonton's leading graphic designers and brand specialists.
He and his wife Julie have operated their studio, Perpetual Notion Design, for the last 18 years and have assisted a multitude of organizations with their needs for branding, visual identity, UX design, websites and communications.
Over the last decade, Geoff has worked alongside Randy Jespersen at Olive Skateboard + Snowboard Manufacturing Inc., where he heads up snowboard design, production and development. Olive is the leader in snowboard manufacturing in Canada, not only building Olive product, but OEM boards and components for other well known companies in the snowboard industry.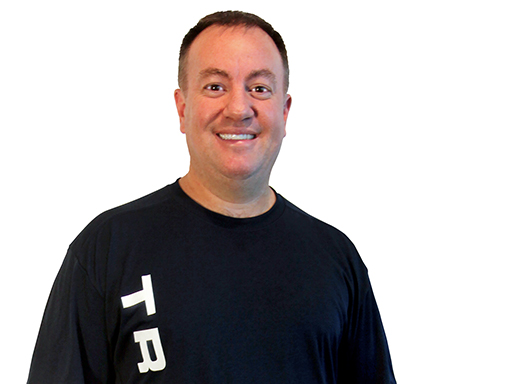 Nolin Veillard
Games and Leisure Judge
Nolin Veillard is the Calgary-based entrepreneur, founder and managing director of TRAK Kayaks, the company behind the top portable and high performance kayaks on the market worldwide.
Nolin's passion for TRAK spans more than a decade. He has pursued the company's success relentlessly, including being a core part of the group that refined a hand-built prototype into a shape-shifting kayak that can now be found across the globe.
Coming from a more "conventional" career as a Chartered Accountant, his commitment to TRAK stems from a strong feeling of gratitude for being behind a product that gives the TRAK community a series of adventures that may not have been possible for them before. He is delighted to be leading the charge for the TRAK 2.0 era.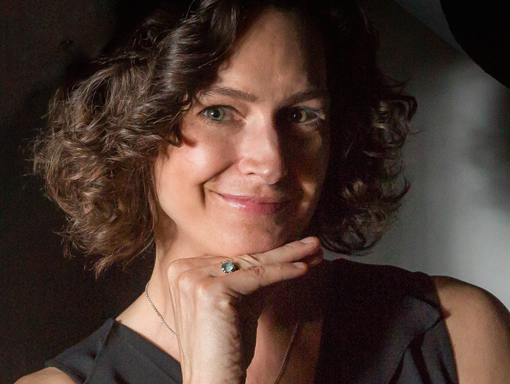 Kelly Jubenvill
Unique Products Judge
When she's not providing creative project and marketing consulting, Kelly Jubenvill invests her time back into teams and communities in Calgary.
One of her most rewarding teams is the Maker Market of the Calgary Stampede, for which she is the vice chair. Now in its fourth year, the market is bringing the amazing talents of Alberta Makers to the attention of local, national and international visitors.
Jubenvill is the Chair of "Your Brain on Art," an annual Fundraiser for the Branch Out Neurological Foundation. She also volunteers with Homestart of the Boys & Girls Clubs of Calgary, where she gets to be a "maker" with crayons, blocks and play dough, as well as offer parent-to-parent support. She's also proud to be a director of Swim Alberta and Direct MS.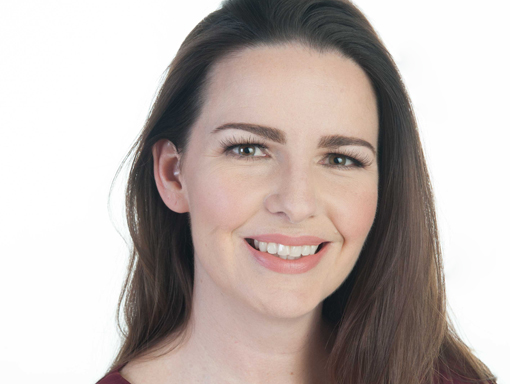 Melanie Love
Unique Products Judge
Melanie Love volunteers as the vice chair of Calgary Stampede's Western Showcase Creative Arts & Crafts sub-committee.
In June 2016, she led a team to pitch the idea for a craft market at the Calgary Stampede, resulting in the launch of the Maker Market in July 2017. The volunteers of the Maker Market showcase local maker talent to the 700,000+ people who come through the BMO Centre each Stampede.
Love is also a SheEO Activator, supporting Canadian women-led businesses with capital, customers and advice. She's also a fashion entrepreneur (founder of Front Room, a women's clothing line) and is trying to kick a renovation habit.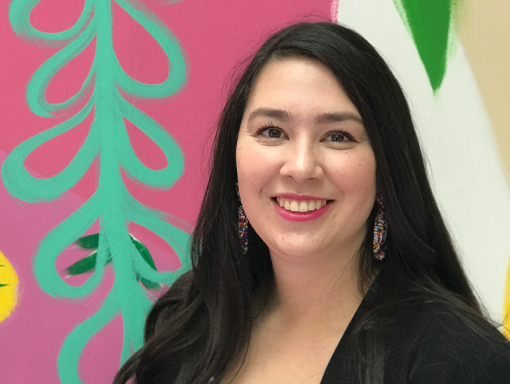 Brianne Larson
Overall Winner Judge
Brianne Larson is the Specialty Leasing Manager at Southcentre Mall in Calgary.
She has more than 10 years of shopping centre and retail experience and has been recognized in the shopping centre industry for impactful brand campaigns. Her expertise is in sourcing local businesses that are ready to take the next step in their retail journey. Most recently, Larson developed a local pop-up program for Southcentre Mall that incubates small businesses and makers from Alberta and features more than a dozen brands.
Larson also has a keen eye for finding concepts that have broad appeal for the mass market environment of a shopping centre. Through coaching and mentorship, she supports entrepreneurs through the first steps of their shopping centre experience and through the growth phases that follow.
She is passionate about supporting entrepreneurs in Alberta and is an avid shopper at many local businesses and markets. She hopes to bring this passion and support to other Albertans.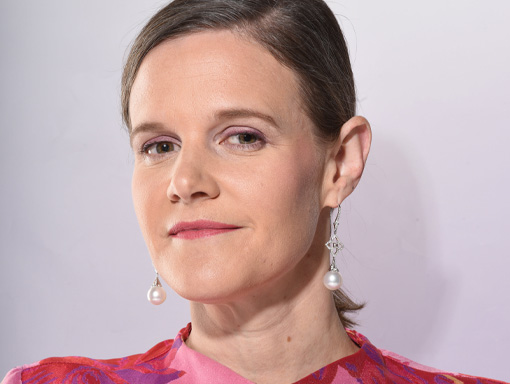 Käthe Lemon
Overall Winner Judge
Käthe Lemon is the editor-in-chief of Avenue magazine in Calgary. She has worked as a magazine editor and writer for more than 20 years for a range of publications and has been at the helm of Avenue since 2007.
Her work has been recognized with awards from the Alberta Magazine Publishers, the Western Magazine Awards, the National Magazine Awards and the International Regional Magazine Publishers Association. In 2011 she was named Editor of the Year by the Alberta Magazine Publishers Association.
Working at Avenue Calgary, the city's premier lifestyle publication, has given Lemon a unique perspective on the ever-widening range of amazing locally made products as well as Albertans' strong demand to support local businesses. Lemon sees Avenue's role as supporting and sharing the stories of great Alberta-made products and businesses and a champion of buying local.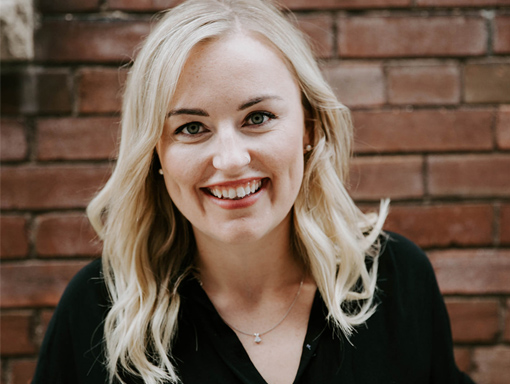 Sara Samson
Overall Winner Judge
Sara Samson is the senior editor for WestJet Magazine, the brand editor for RedPoint Media and a contributing editor on the Made in Alberta Awards.
She's been an editor and writer for nearly 10 years and has worked on a variety of lifestyle and travel publications. She is also a journalism instructor at SAIT and has volunteered with a number of local charitable organizations.